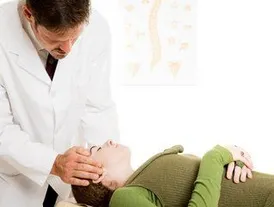 AThe chiropractic team at Findlay Chiropractic offers diversified and activator chiropractic care to help patients conquer pain in Lincoln, NE. Dr. Charles Findlay has the experience to help you live pain-free.
What is Chiropractic Care?
Chiropractic care is health care designed to heal the body using manual therapy. This includes spinal manipulation, as neck and back pain are common. To practice this specialty, chiropractors must be Doctors of Chiropractic (DC) and pass the National Board of Chiropractic Examiners exam.
Chiropractors perform manual treatment methods like specific joint manipulations and stretching. These consist of a gentle and quick thrust and are usually delivered using the hands, though there is also specialized equipment. The goal of chiropractic adjustments, or joint manipulations, is to increase or improve joint function and motion.
In addition to by-hand treatment, there are also advanced technology-backed therapies that can improve your care and treatment outcome. Dr.Findlay uses the activator method, which involves an instrument that adjusts using a high-velocity, low-amplitude thrust (HVLA thrust). The device is hand-held and spring-loaded.
When should I see a chiropractor?
You should see a chiropractor for pain management. Chiropractors have experience treating back pain and other types of pain that they can bring to help you feel pain relief and heal. Dr. Findlay aims to deliver long-lasting care and find the root cause of the pain.
How a Chiropractor Can Help You
Chiropractors like Dr. Findlay perform chiropractic adjustments to help you feel your best.
Your chiropractor will interview you, get a history of your symptoms, perform a physical exam, and identify a working diagnosis. It is essential to be honest with your practitioner so that they can design your treatment to meet your needs.
Call (402) 489-8222 to schedule an appointment at Findlay Chiropractic in Lincoln, NE, to address your pain. Dr. Findlay treats head, back, neck, shoulder, and hip pain, auto injuries, and people suffering from sciatica, carpal tunnel, and temporomandibular joint dysfunction (TMJ).